Posted on June 23, 2016 by halloweencostumes
It is almost that time of the year again wherein parties are everywhere, cook outs are being held at parks and fireworks shows are being prepared for the evening. That's right. It's almost 4th of July.
One of the most joyous events in a country is the celebration of its independence day. In America, this celebration is held with huge parties in almost every town. You can already smell the barbecue in the air. So don't you ever wonder if you stroll down a park or in the streets and you can smell steak because that's definitely one of the best parts of the celebration of the 4th of July. Families gather and hold parties in their houses. You can see patriotic decor in homes. Sometimes, people even wear them. The things you can do for a 4th of July party is an endless list. You can arrange for games, prepare an amazingly setup buffet table and become creative with the dishes you prepare. Of course, what is a 4th of July buffet table if it's not in red, blue and white? It's the color of the American flag and is certainly the theme of every party. It's fun to see those American flag designed cakes. There are cute truffles on a stick that's blue and with little stars or red with white stripes. Don't forget the huge burgers with little American flags on them. You couldn't get more American than that. It might be fun for kids to have Uncle Sam beards that are actually cotton candy. Wouldn't that be fun for them? Everything on the table is American flag themed from the food to the drinks. It's definitely a fun time for everyone.
When it's the 4th of July, the colors red, blue and white are on everything and everyone. Yes, people wear the American flag and themed clothing and costumes are the trend. You can see from simple shirts to over-the-top costumes, people are not afraid to show how patriotic they can get. Since the parties are everywhere for the 4th of July, might as well dress for them, right? You can find a lot of people wearing American flag printed shirts. Some people who are not so into putting too much effort on their clothing prefer to pick out something from their closets and simply combine the colors red, blue and white. Then by wearing an Uncle Sam hat and star-shaped sunglasses, they're good to go. But some people are not hesitant to go the extra mile on the 4th of July and are willing to show off some amazing clothing picks for the parties.
The Costume Land is here to give you ideas of awesome picks for your upcoming 4th of July parties. We have got some great items in store and we would like to show them to you.
Uncle Sam is a very common costume worn by men during the 4th of July. Why? Well, it's because 4th of July is his birthday! Sort of. Uncle Sam (U.S.) is a personification of the American government. This is why when it's the 4th of July, whether you go to the parades or to parties, it's impossible not to see an Uncle Sam costume. We have a special Uncle Sam costume and it is exquisitely made. Check out this Deluxe Uncle Sam Elite Men Halloween Costume that comes with a coat, vest, dicky with attached bow, pants, hat and spats. With a set of Uncle Sam wig and beard, this costume will definitely stand out among other Uncle Sam costumes.

A lot of women are very conscious with what they wear. You really can't convince some to wear actual costumes because, well, fashion. They want to look sassy, sexy and flashy and not look like someone who just stepped out of a children's book. Well, we have just the costume every style conscious women would definitely love to wear. The combination of this Sexy Pin Up Halter American Flag Women Top paired with this Americans Polka Dot High Waisted Short is absolutely gorgeous. The top is a sexy blue halter top with star print accented with a white and red stripe in the middle. The bottom is a red and white stripe high waisted short. You can get the two or get one and mix and match it with something you have at home.

If you want something that covers more skin but still want to look sexy, we have just the thing. This Flag Zipfront Women Bodysuit is the perfect costume if you want to look sexy, but not too sexy. Still, it will make heads turn. It is an American flag printed suit that zips down the front. Whether you choose to wear it with or without accessories, it's still one amazing thing to wear on the 4th of July, Uncle Sam will thank you for it.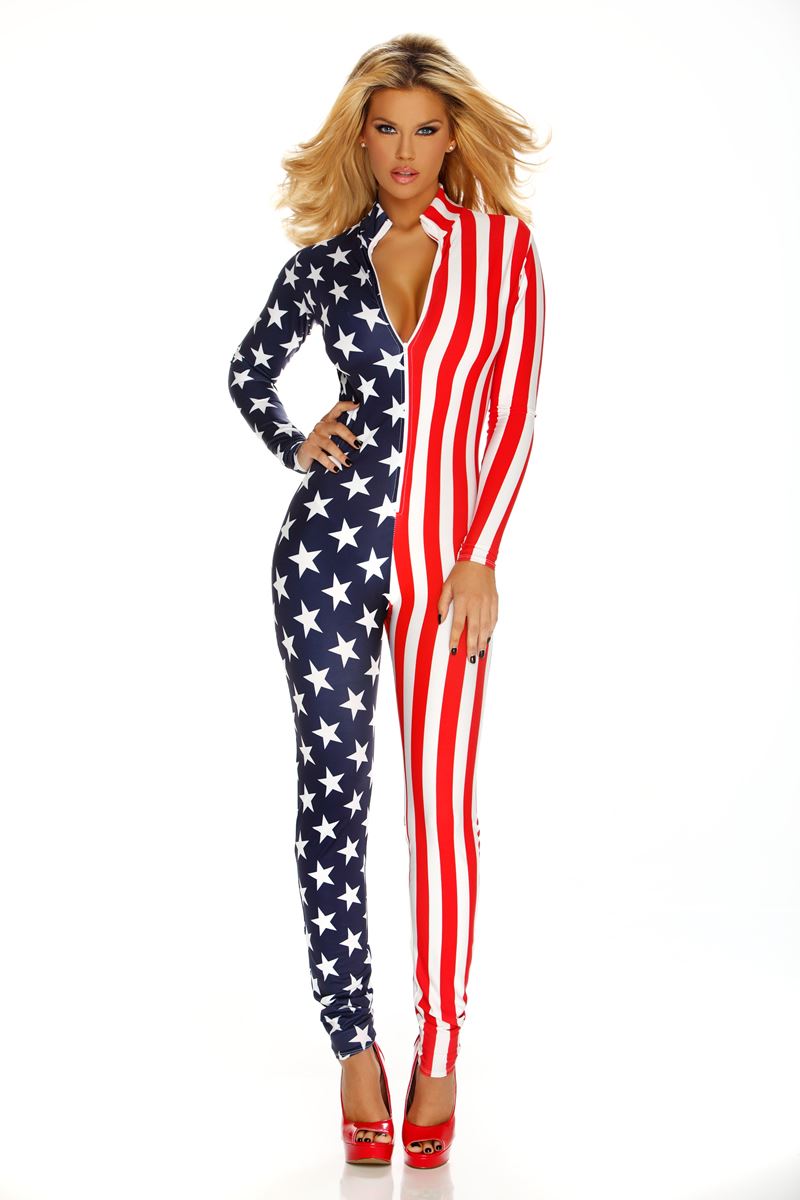 Kids can wear patriotic clothes as well but don't you think it would be more adorable to see these little kids in costumes? Seeing them in costumes of historically significant people will leave people in awe, and a few wanting to pinch their cheeks for being too cute. That's why we have an adorable George Washington Patriotic Boys Halloween Costume because why not dress as the first American president? This costume comes with a hat, jacket with attached jabot and vest. It's never too early to teach your kid love for country.
For the girls, we have a simple yet adorable Girls USA Flag Dress. We know that kids can be tough to handle as they are active and gets excited when fun things are happening. So this flag costume is a great idea as she can be waving herself as the flag. Clever and cute.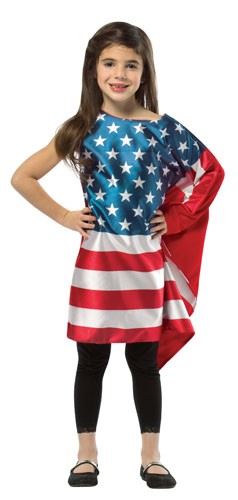 Fun is in every corner of America during the 4th of July and there is absolutely no reason for you to miss out on all of them. Whether you are going to the parades or the parties or the cookouts or the firework shows, be sure to dress yourself in a way that's screaming patriotism. A great celebration for a great country. Go all out and let everyone see how much you value and love your country by not just participating but going the extra mile. There are so many things that you can do to show it and dressing up in costume is only one of them. For a great party like this, you should never be under dressed. So check out our store at The Costume Land for more great costumes and accessories. Be sure to be prepared for this big event that's coming really soon. Hurry before they sold out!
Happy shopping everyone!