Posted on June 06, 2016 by halloweencostumes
Halloween is one of the most anticipated time of the year. Yearly, kids and adults participate in numerous fun activities like trick or treating and attending Halloween costume parties. Well, you have to admit, scaring the soul out of people is pretty fun. Although it has been common for people to dress up in other costumes which can be not scary but it is always best to stick with tradition. We all know that costumes are the real deal during Halloween. Some people even plan for months before Halloween to make sure they are well prepared and have the best costume around because with everyone dressing up, it can be quite hard to stand out. There are so many typical Halloween scary costumes like zombies, ghosts, witches, vampires, monsters and other mythical creatures that have been known to haunt the stories during childhood. But wouldn't it be fun to step out from what's common and try out something unconventionally scary?
We are going to check out some of the latest costumes we at The Costume Land have in store for you. We will give you cool ideas that will make you stand out for this year's Halloween.
There have been many horror movies about haunted dolls that have been possessed by a demon or a spirit of someone who had already passed and these type of movies have been a hit. It has been also a trend to see dolls in creepy movies especially in stories where there are children involved. It's good but also a bit bad because some kids are now afraid of dolls themselves. You might quite agree that there are certainly dolls that are creepy that you wouldn't stand to have them in your bedroom… staring at you… in a corner… while you sleep. That's some scary stuff right there. Well, we have some creepy doll costumes that might just be perfect for your Halloween. Check out this Pretty Porcelain Doll Woman Halloween Costume which comes with a lace trimmed black and white dress with bow accents, matching bow headband and a creepy broken doll face mask.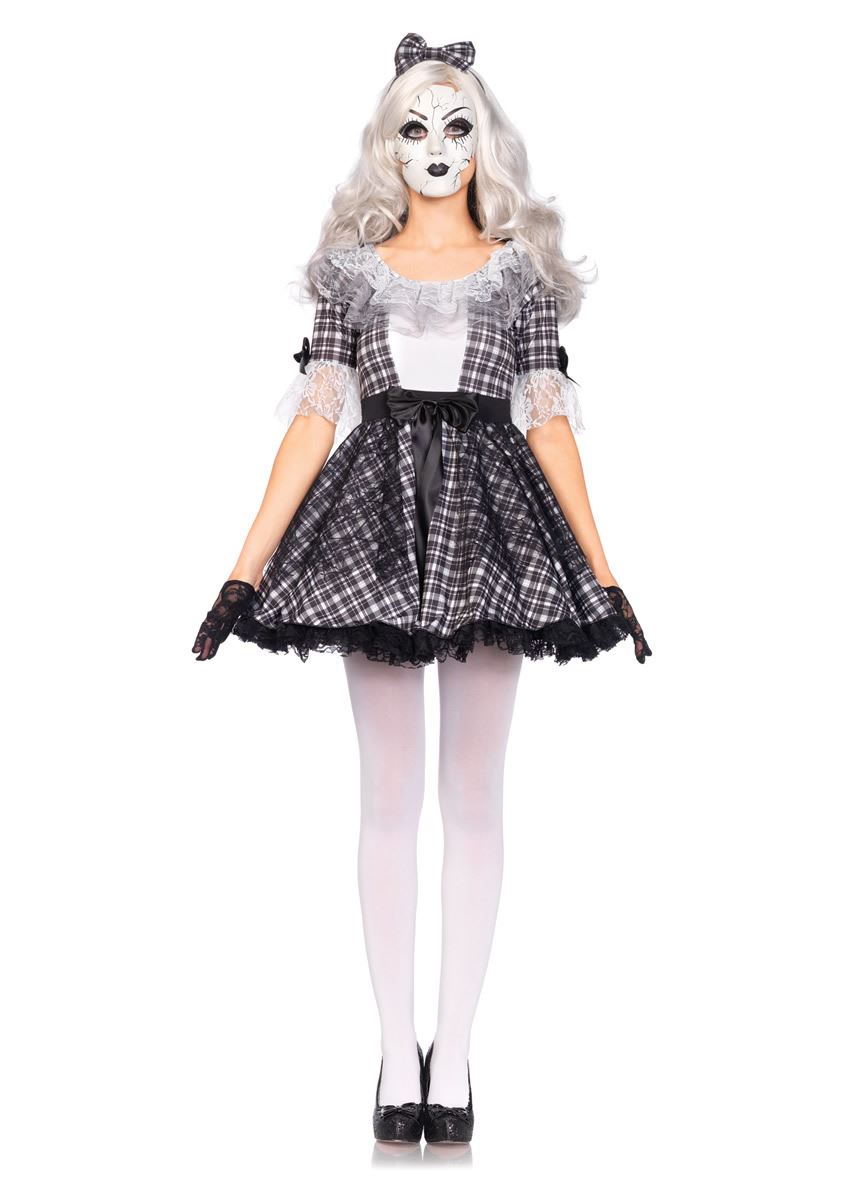 With a little more creativity and accessories, you can pull off this costumes and take its creepiness level over the top. A few suggestions would be to do a pale body paint with little cracks here and there and some blood stains on the dress. A bit of dripping blood from the mask will make it look scarier too.
We have another creepy doll costume for girls too. This Broken Doll Girls Tween Halloween Costume includes a dress with attached sleeves, velcro attachable bow, hat, printed leggings, ribbon choker and quarter mask. Since this costume comes with the printed sleeves and leggings, you won't need to do the cracked pale body paint which makes it convenient. You can still add a personal touch to it.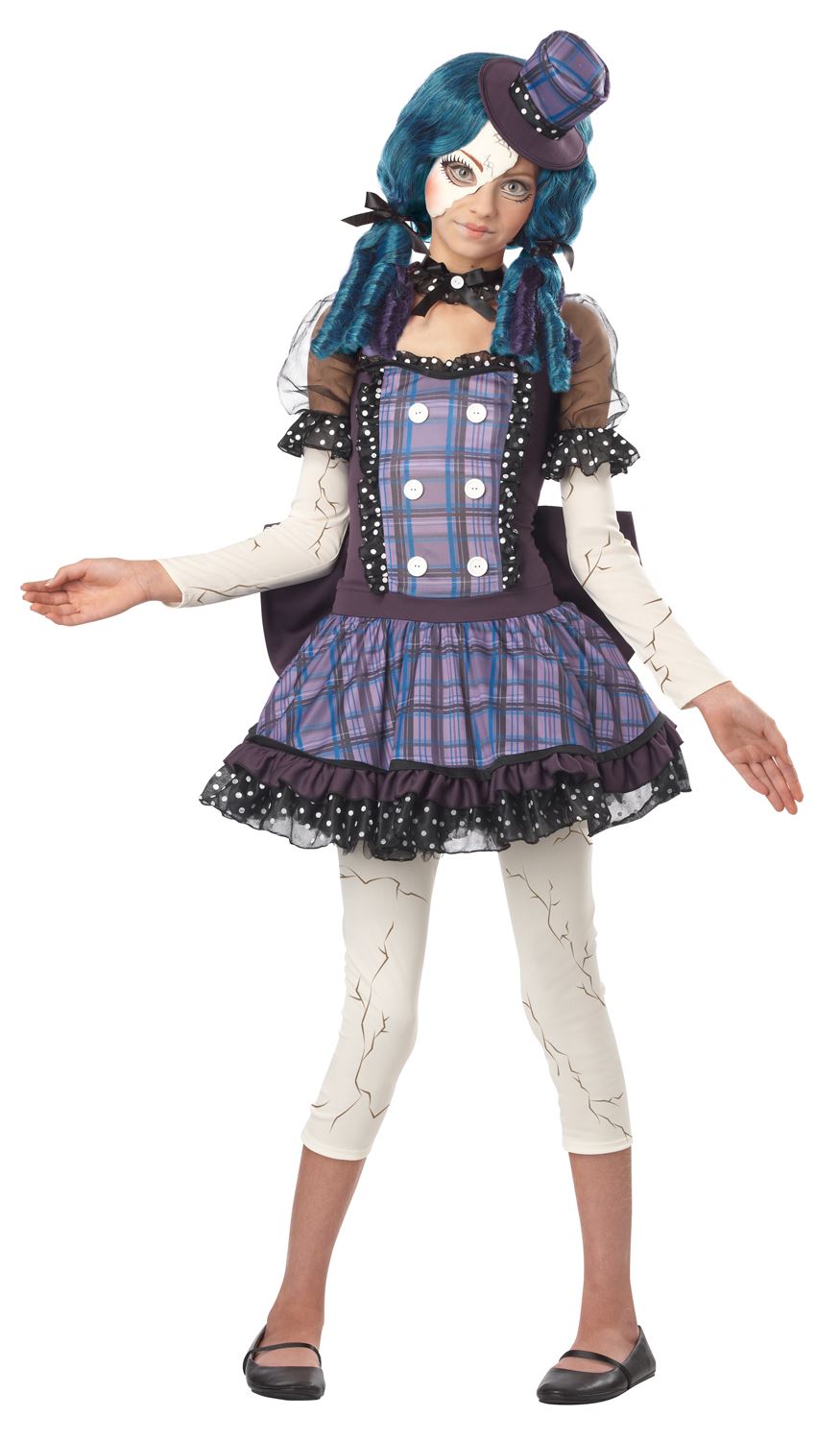 No one pulls of crazy stunts and pranks more than guys do. They can come up with the wackiest ideas and they can either be flat out funny or just damn mean. But despite it, they can nail the scariest costumes you might ever see. A lot of people agree that clowns are creepy. They look scary in their makeup and just when you think they want to play, they give out that horrible laugh that will absolutely give you goosebumps. We have the perfect clown costume if you want to scare the hell out of people. Check out this Wicked Twisted Clown Men Halloween Halloween Costume which comes with a mask, bow tie, shirt, suspenders, pants and gloves. If you can't scare people with this, nothing will.

A lot of things in this world that we find weird, we find scary as well. It's an evolutionary instinct that automatically draws us away to what we find intimidating or unpleasant as if our minds know that "No, this can't be good." Although at time, this instinct can be a bit overwhelming as we find even the most ridiculous things funny. Want to know something that weird and scary but shouldn't be? Mimes. That's right. Those white faced, gloved, speechless guys that signals to communicate but looks straight at you as if he's looking deep in your soul, well, are creepy! So creep people out with this Miss Mime Tween Girl Funny Halloween Costume that will have people wondering if you are still in your sane mind. This costume includes a dress with elastic sequin suspenders, neck scarf, gloves and matching sequin hat. The trick to nailing this costume would be to have a blank look on your face but with eyes piercing through the soul of everyone you pass.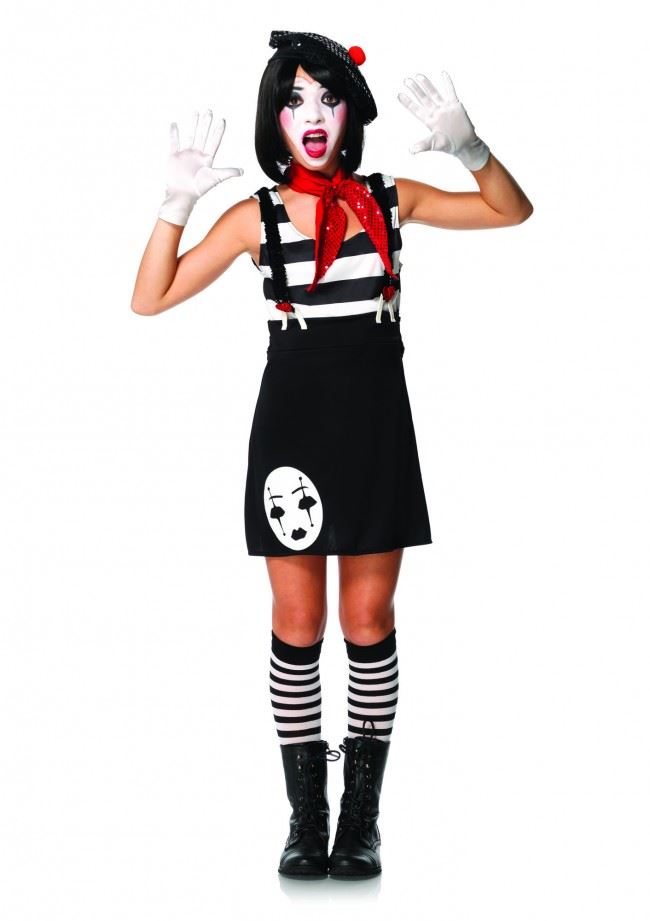 We are down to our last costume but don't worry, we have saved the best for last. This one may be sticking to the traditional Halloween costume but don't worry, it's cool enough to make your boy stand out. Figures of dead people in horror films have been in since, well, horror films began. To see a man chopped up in half crawling, or a headless girl running after someone is cliche in movies. Yes, it's typical but still works every time. So for your kids, get this Sleepy Hollow Headless Horseman Boys Halloween Costume which comes with a jacket with attached vest and cross belt, vinyl headpiece and inflatable shoulder unit.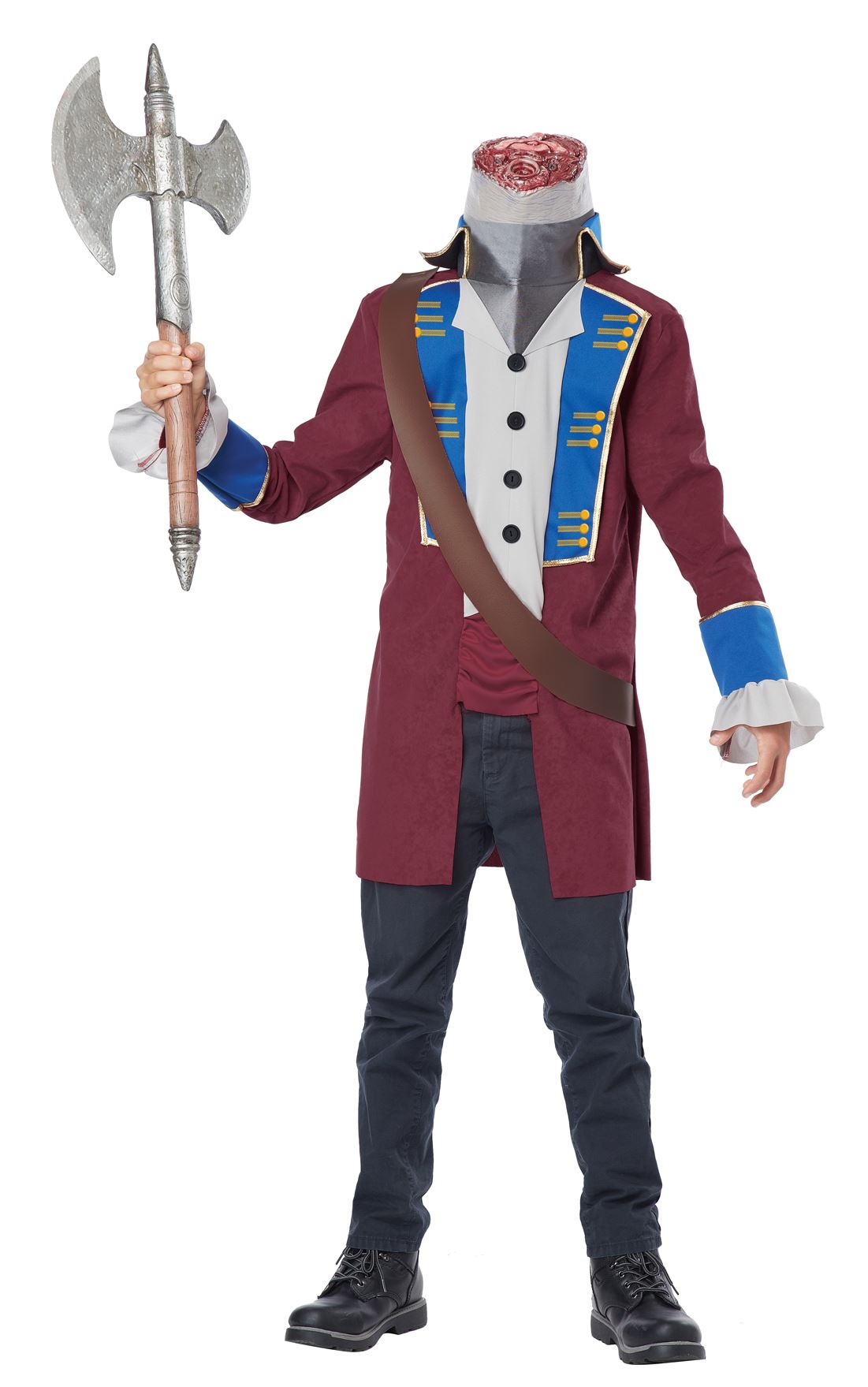 These are only a few of the many amazing Halloween costumes you can find at our store. So don't let this year's Halloween turn into a complete flop. Plan out your costumes now and we can help find the right one for you. Visit our store at www.thecostumeland.com to see more of the latest costumes and what's on sale. Halloween is a time for fun and exciting things to happen. Embrace it and don't let the fun all happen without you. Take part in this wonderful tradition and bring on the scare. After all, what's fun without a little mystery and mischief. Enjoy the season with the best costume finds online.
Have a fun and spooky shopping everyone.