Posted on August 13, 2016 by halloweencostumes
Who in the world could not love puppies? Puppies are probably the most adorable things in the planet! Kids love them. Adults love them. They truly are man's best friend. Imagine a show where the heroes are puppies. Now that's something kids would absolutely love. That is why it's not to wonder if kids, boys or girls, adore the show from Nick Jr., Paw Patrol.
This month of August, Paw Patrol is celebrating its 3rd year anniversary. The show is a Canadian animated series which first aired in Nickelodeon in the United States on August 12, 2013. Since then, Paw Patrol has been a huge hit for kids and have now been renewed for their fourth season. The story of the show revolves around a young boy named Ryder who leads a pack of dogs and they are known as the Paw Patrol. Their main goal is to keep their beloved city, Adventure Bay, protected. This is why they go on missions and adventures and they all work together as one adorable team. The Paw Patrol's official pledge is,
"In dark of night, in light of day, we, the Paw Patrol will serve Adventure Bay. From runaway trains to stranded whales, we'll rush to the rescue with wagging tails. If danger is near, just give a yelp! The Paw Patrol is here to help!"
As parents, it is reassuring that the shows our kids enjoy to watch teach them valuable lessons. Team work, kindness, friendship and doing good deeds are only a few of the many lessons kids can get from watching Paw Patrol. These are indispensable lessons kids can learn so as parents, you should show your support for their love of great things like this. So if your kids want to become a part of the "PAWpulation", why not make it even more fun for them by getting them amazing Paw Patrol costumes? We have costumes of some of the most adorable members of the Paw Patrol team and your kids will definitely enjoy them. Let's check them out!
Few of the most adorable PAW Patrol team members:
1. Chase
Chase is the main character of the PAW Patrol and he is an adorable German shepherd puppy. He works as a police and traffic cop dog and he sure loves what he does knowing that it's one of the many ways he can protect his beloved city, Adventure Bay. He is after all, pretty serious when it comes to his missions. He helps keep things in line and direct traffic whenever there's an emergency. He also helps out track animals that have gone missing. Because he is serious in his missions, he acts maturely when on them even though he can get really playful when he's off duty. Get your kid a cute Paw Patrol Chase Halloween Costume which comes complete with a jumpsuit, headpiece and pup pack.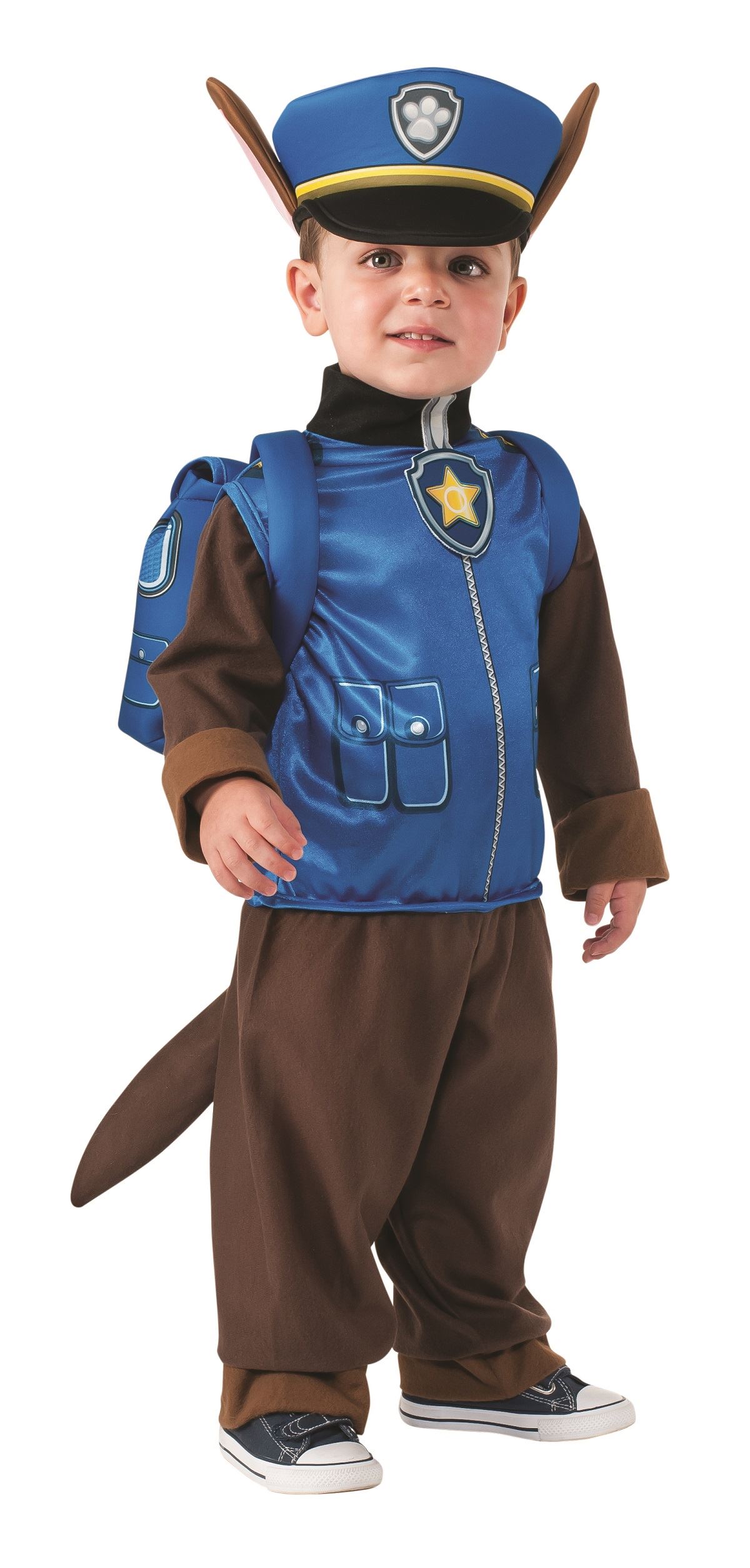 2. Marshall
In every group, there's always that's one that is always clumsy and silly. Well in the Paw Patrol group, that's Marshall, the adorable dalmatian puppy of the group. But despite his silliness and clumsiness, he is Chase's best friend and they are always partners whenever they're on a mission. You know he's excited when he howls. He is one of the bravest among the group and his loyalty is undoubted. Above all, Marshall is really friendly which makes him one lovable character. If you think your kid is a bit like Marshall, then get him this Paw Patrol Marshall Boys Halloween Costume which comes with his jumpsuit, headpiece and pup pack.
3. Rubble
Rubbles is an English Bulldog pup who loves to fix things so he's got lots of cool tools with him. He enjoys construction-related work and is really handy in fixing train racks or even damaged buildings. So you could say that he does dig digging. Rubble is a funny character because he loves to show that he's one big tough guy but he is actually very affectionate and a bit emotional at times. Even though he's the youngest in the Paw patrol, when there's trouble, it's Rubble on the double. Dress your kid up like Rubble with this Paw Patrol Rubble Kids Halloween Costume complete with a jumpsuit, hat and pup pack.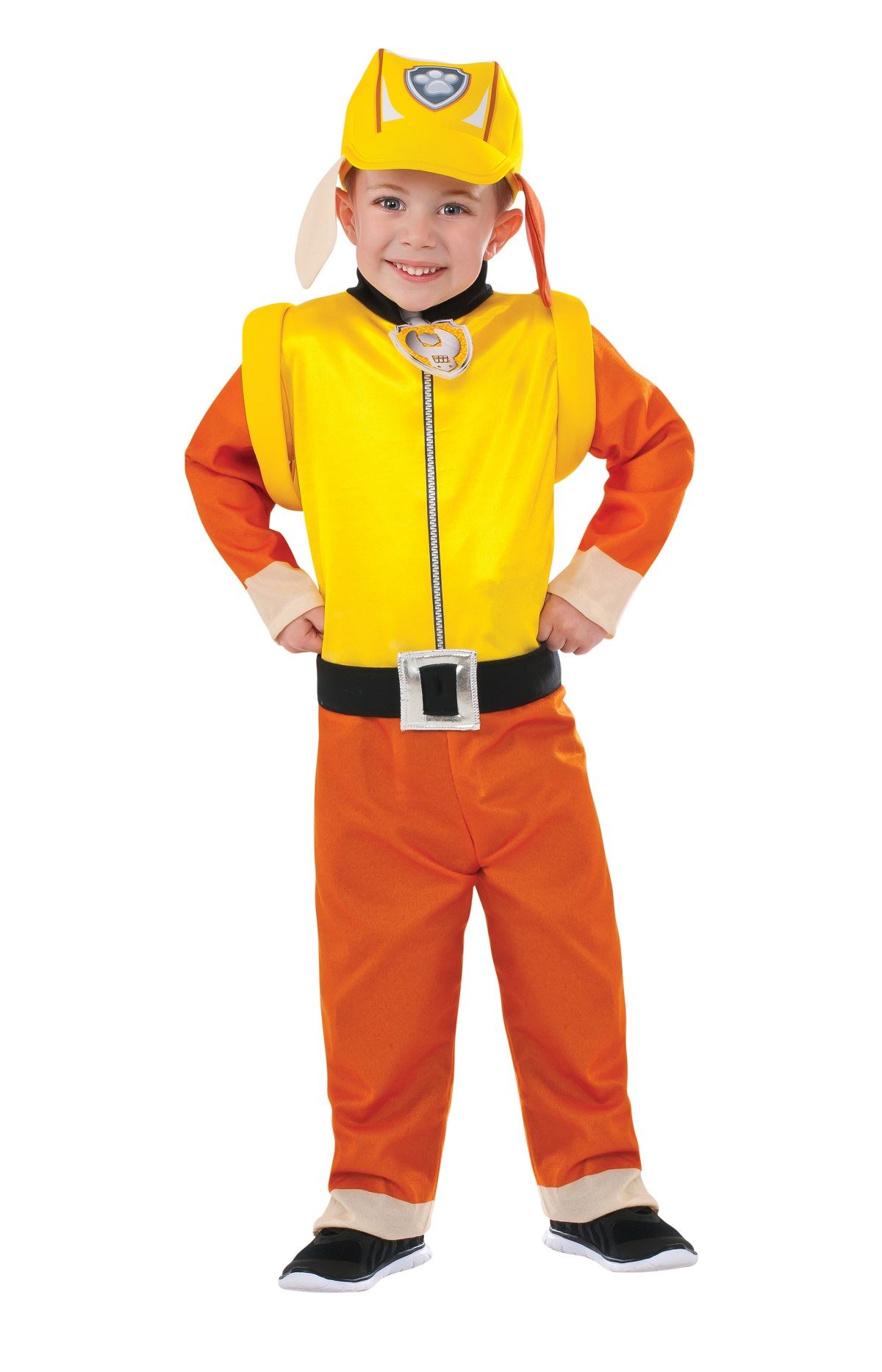 4. Skye
She may be the first female member of the Paw Patrol but don't underestimate her. Skye is one brave and smart cockapoo, a cocker spaniel and poodle mix. She always keeps watch for emergencies on her trusty helicopter. With its grappling hook, she can save people and transport her other team members from one rescue place to another. As adorable as she is, she's also very fun-loving and enjoys games a lot. But when someone needs her help, she takes it to the sky.. that's what she would say. Do a fun dress up with your little girl with this Paw Patrol Skye Halloween Costume which comes with a dress, a headpiece and a pup pack with wings.
Amazing costumes that come with fun and exciting adventures. Your kids will definitely enjoy watching the show even more now that they can pretend to be a Paw Patrol member, out to help and make the world a better place. Make everything more interesting for your kids with great costumes that you can find at The Costume Land. You can be sure that what ever the event or party or occasion your kids attend in costume, they will have a blast! Check out our store for more incredible costumes and accessories.
It's always fun shopping at The Costume Land. Enjoy!