Posted on August 02, 2016 by halloweencostumes
It's almost everyone's favorite time of the year and with your probably busy schedule, you may not notice the time passing by. Yes, Halloween is now just 89 days away. This means that your time to prepare for a costume is getting lesser and lesser as the days go by. But not to worry, The Costume Land has a wide variety of costumes and we will make sure to give you costume ideas that will not only fit your budget, but will certainly blow everyone away. There are so many great items in store that choosing might come in difficult so start planning and we will be here to assist you. Before you think about what you're going to wear for this year's Halloween, trace back your past Halloween costumes and make sure to try something different, new and fresh this year. Once you have gone through that, start thinking about what you think you will feel most comfortable wearing this year. Take into account certain things like time constraint. If the costume you have in mind will take time in making or setting up, you might need to rethink your costume. Think about your budget too. You might have an awesome, over the top costume planned out but if you don't have the budget to put it all together, it might not turn out as you expect. Also, think about something fun. This is what this holiday is all about, having fun. Think about something you would enjoy wearing. Lastly, think about something that's significant. It can be something that's recently on trend like something from a new movie that came out this year, a character from a game or a historical figure. What ever it is you decide on, the most important thing is you know it will be something you will definitely love to be in this year.
Every year, you check out various stores to look for costumes and sometimes, you find the same items over and over again every single year. It can be quite annoying. That feeling when you are so excited to look for fresh, new costumes and you find the same items from last year and from last last year. Well, lucky for you, we are here to give you fresh new items in store. We know how lame it is already to be wearing something people have already seen but not to worry, we will show you some of the latest 2016 costumes we have and they are just waiting for you to check them out. For today's featured costumes, let's trace back to our roots with Native American costumes.
Native Americans are part of the rich American history which is why it is not to wonder why they are a popular choice for costumes during special occasions like Halloween. We bring you Native American costumes with their own cultural style twists. There are many different styles of Indian inspired costumes that will surely make you stand out in this year's Halloween. You don't even have to bother to look elsewhere to accessorize these costumes because we have everything you are looking for, right here. It's a one stop shop for your Native American costume needs whether for men or women, boys or girls.
Let's check them out!
We all know that kids are the main event during Halloween. Why not? They look adorable in little costumes, what ever their costume may be. Make this year's Halloween fun and educational by indulging them in culturally inspired Indian costumes that they will definitely love. What could be better than fusing learning and fun together, right? Bet you that even as parents, you would enjoy dressing them up as much as they enjoy being dressed up. So for you little boys, you can pick up this Native American Brave Boys Halloween Costume which comes with a shirt, pants, belt with tabard, headband and one armband. With a few more accessories, this is one amazing costume, no doubt!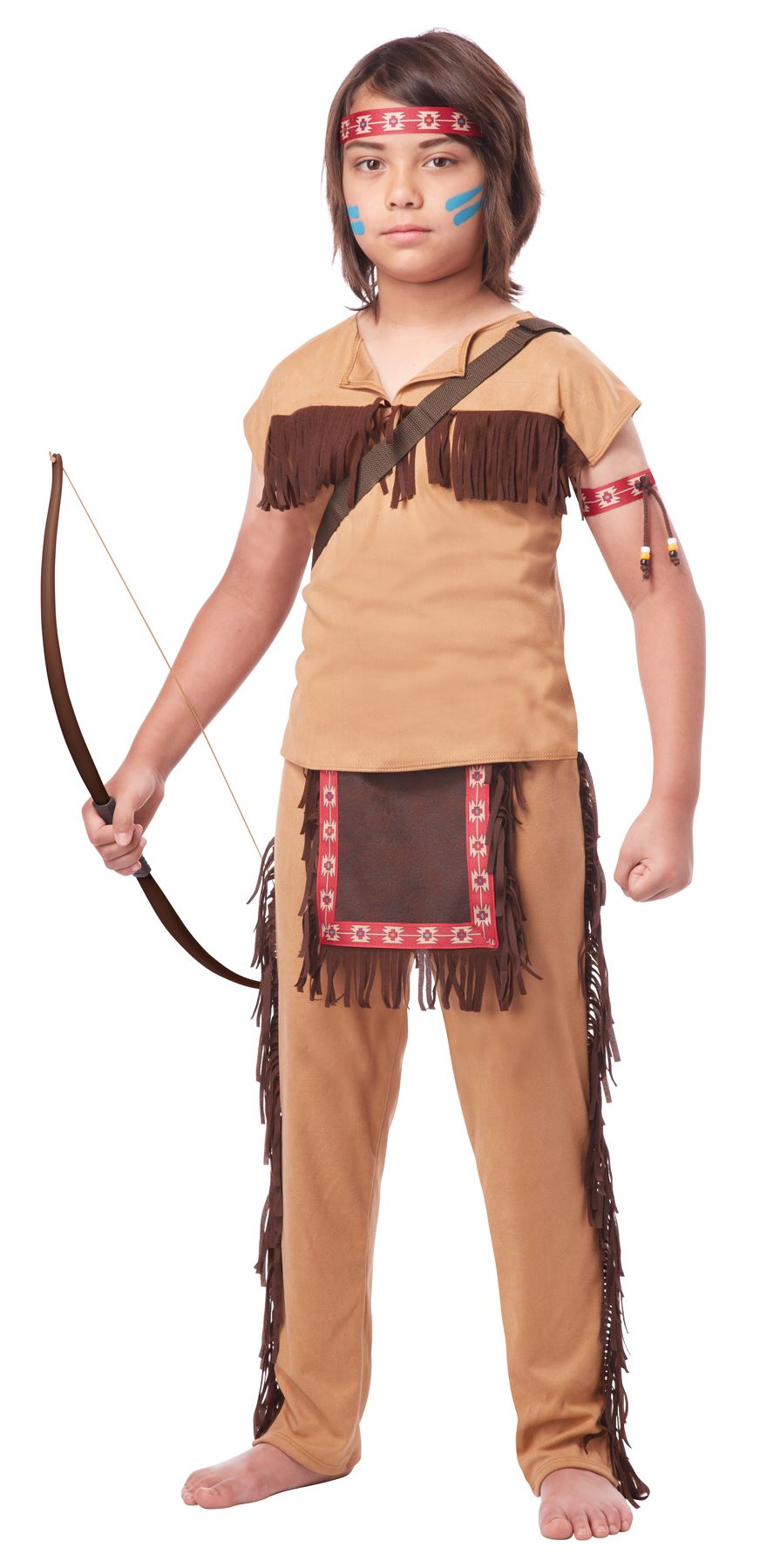 Brace yourselves because what's next may just be the cutest thing you will see today. Nothing is more adorable than little girls in cute costumes and this one is no exception. Many little girls would love to be a princess and dress up like one. Pretty sure, this year would still be filled with princess costumes of different styles. Still, they would all be the same typical princess costume. If your little girl is one of those who wants to be in a princess costumes, turn it up a bit by making her an Indian princess with this adorable Lil Indian Princess Toddler Halloween Costume. This costume comes in complete with a dress, boot covers and headband. She may not be in a crown but she would look like a strong, tribal princess who would fight for her people.

Despite Halloween being an event mainly enjoyed by kids going trick or treating, as adults, let's admit it. We don't want to miss out on all the fun too. That's why we host parties at our houses to make sure that this is one holiday that not only kids would enjoy, but grown ups would too. Fun knows no age and dressing up in costumes is absolutely one of the most enjoyable things to do. So who said only kids can turn up in costumes during Halloween? We have Native American costumes for adults too and you will certainly not miss out with these lovely costumes. For men, you could look like one hot native hunter in this Native American Brave Men Historical Halloween Costume which comes with a shirt, pants, arm bands, belt with attached tabard, and a headband with feather.
Many women love to dress in hot and sexy costumes during Halloween which is why it is not surprising to find a sexy twist for almost every costume. Sexy policewoman, sexy superwoman, sexy waitress, sexy nurse, sexy goddess, sexy mermaid, sexy minion and many others alike. So, we have this Native American Woman Halloween Costume which comes with a lace-up dress that will definitely show some cleavage. The dress has a feather and fringe detailing. You can pair it with a pair of Lace up Suede Leg Warmers Tan which also has a matching feather and fringe detailing.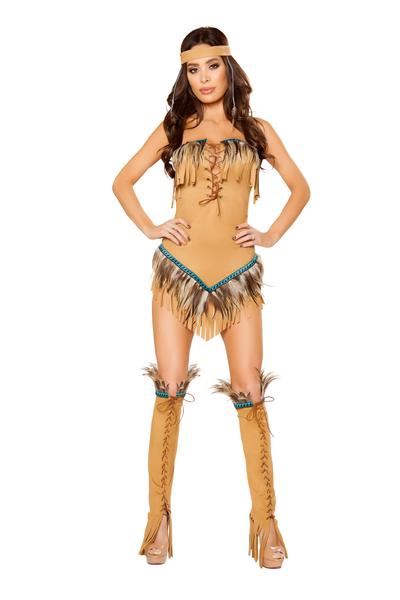 Despite everyone being in costumes, you will still definitely make heads turn when you are in a great set of costume. So while there's still time, start planning and preparing what this year's costume will be for you. Keep updated with the latest costumes in store and check out our website for more fabulous costume choices. With the wide variety of costumes we have, we're sure that you can find what ever it is you're looking for right here. Enjoy your shopping only at The Costume Land.