Posted on August 10, 2016 by halloweencostumes
Nickelodeon has been one of the most favorite channels for kids and why wouldn't it be? They have amazing shows and they are all super fun and exciting for kids. Last February 2015, a show named, Power Rangers Dino Charge, first aired. A lot of you may already be familiar with Power Rangers. Some of you may even grew up watching Power Rangers. But now, they are back with new episodes and exciting adventures. As new threat arises for Earth, and possibly the entire universe, the Power Rangers are once again needed to protect it from evil.
Sixty-five million years ago, Energems, which are metal-tipped crystals which posses great powers of the universe, were given to ten dinosaurs on Earth to make sure that they are kept safe. These Energems were given to the dinosaurs by an alien named Keeper, who also happens to be the mentor of the Dino Charge Rangers. The Keeper is considered an enemy by Sledge, who is an intergalactic bounty hunter who seeks the Energems solely for his own selfish reasons. For that, Sledge is considered a threat. When he attempted to acquire the Energems, it lead to the extinction of the dinosaurs and the Energems were lost along with them. Sledge, who is still not happy to have the Energems, are back to look for them thus making him a threat since the Energems are lost here on Earth. That is how the Power Rangers are once again formed to make sure that they find the Energems before Sledge does. It is their job to make sure that Sledge won't get away with his evil plans and they vow to risk their lives to fight him and other enemies with dino-powered swords, blasters, Zords and Megazords.
A story like this of dinosaur-power, aliens, fight between good and evil, is certainly something that kids would find interesting. If your kids are into Power Rangers Dino Charge then they will love these costumes of the main Power Ranger team. The main team comprises of Dino Charge Red Ranger, Dino Charge Black Ranger, Dino Charge Blue Ranger, Dino Charge Green Ranger, and Dino Charge Pink Ranger. Seems like you have quite the number of choices but as always, it's best to stick to the ones that best fit your kids personality and one that they will enjoy being dressed up as. So without any further a do, let's get to know the Dino Charge team!
Power Rangers Dino Charge Main Team:
1. Dino Charge Red Ranger
Tyler Navarro is the Red Ranger of the Dino Charge Rangers and is sometimes also referred to as Tyrannosaurus Rex Power Ranger Red. Despite his sad history of losing his father in a cave expedition, Tyler is a free-spirit and enjoys seeing life as one big adventure. Tyler may sometimes be prone to show grudge against one of their enemies, Fury, who may have something to do with his father's disappearance but his good heart always overpowers it. He is always curious, energetic and is fond of company of other people. Sometimes, he may be a bit childlike but there is no doubt that he has what it takes to be a leader. He can switch from being an immature teenager to a serious evil-fighting ranger. If you think your little one is as curious and energetic as Tyler, then he can certainly pull off this Red Power Ranger Dino Charge Muscle Boys Halloween Costume. Teach your kid the moves to transform and he will be looking like one badass evil-fighting ranger in this flaming Red Ranger costume.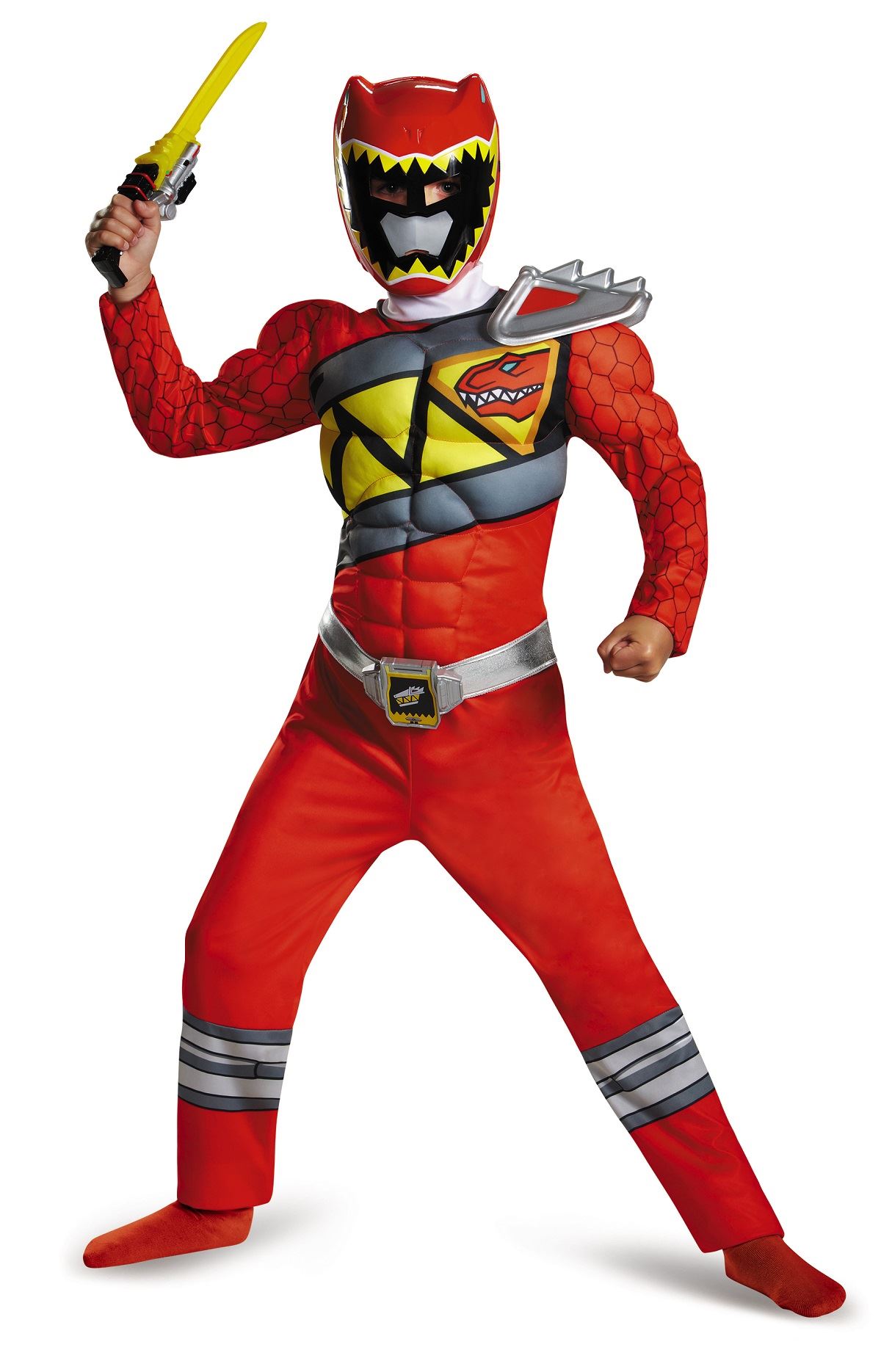 2. Dino Charge Black Ranger
Black ranger? Sounds evil! Black is the color of the enemy, isn't it? Well, not this guy. Because Chase Randall is a cool, laid-back dude with serious fighting skills. Chase Randall is the Black Ranger of the Dino Charge Rangers. He is also referred to as the Parasaur Power Ranger Black. Chase is born in New Zealand and was given the Black Energem by a Maori fortune-teller. He is also the first to become a Dino Charge Ranger. Chase is your typical cool dude. He wears the right clothes, loves popular music and is usually looking pretty good. It's not to wonder he's famous among girls especially when he's just around, riding his skateboard looking cool and awesome in his hoodie or playing with his guitar. Yes, definitely the type of guy girls love which is why he's always distracted. Who wouldn't be when you have all the girls swooning over you? Does your little boy have that appeal too? Then he might love to become a Black Ranger. Get him this Black Power Ranger Dino Charge Muscle Boys Halloween Costume. Nothing's cooler than a hero in black, right?
3. Dino Charge Green Ranger
He is also known as the Velociraptor Power Ranger Green. He is Riley Griffin, the Green Ranger of the Dino Charge Rangers. If a lot of heroes where chosen, well, Riley is different. He found the Green Energem in an unexpected encounter with Fury. Growing up in a ranch, Riley didn't seem to feel he fit in. He doesn't like getting dirty and is picky eater. He enjoys logic games and is considered a whiz kid. Quiet but confident, intelligent and disciplined, he made a perfect addition to the Dino Charge team. Got a boy who's a whiz as well but loves adventure? Then he will definitely fit in to become the Green Ranger with this Green Power Ranger Dino Charge Muscle Boys Halloween Costume.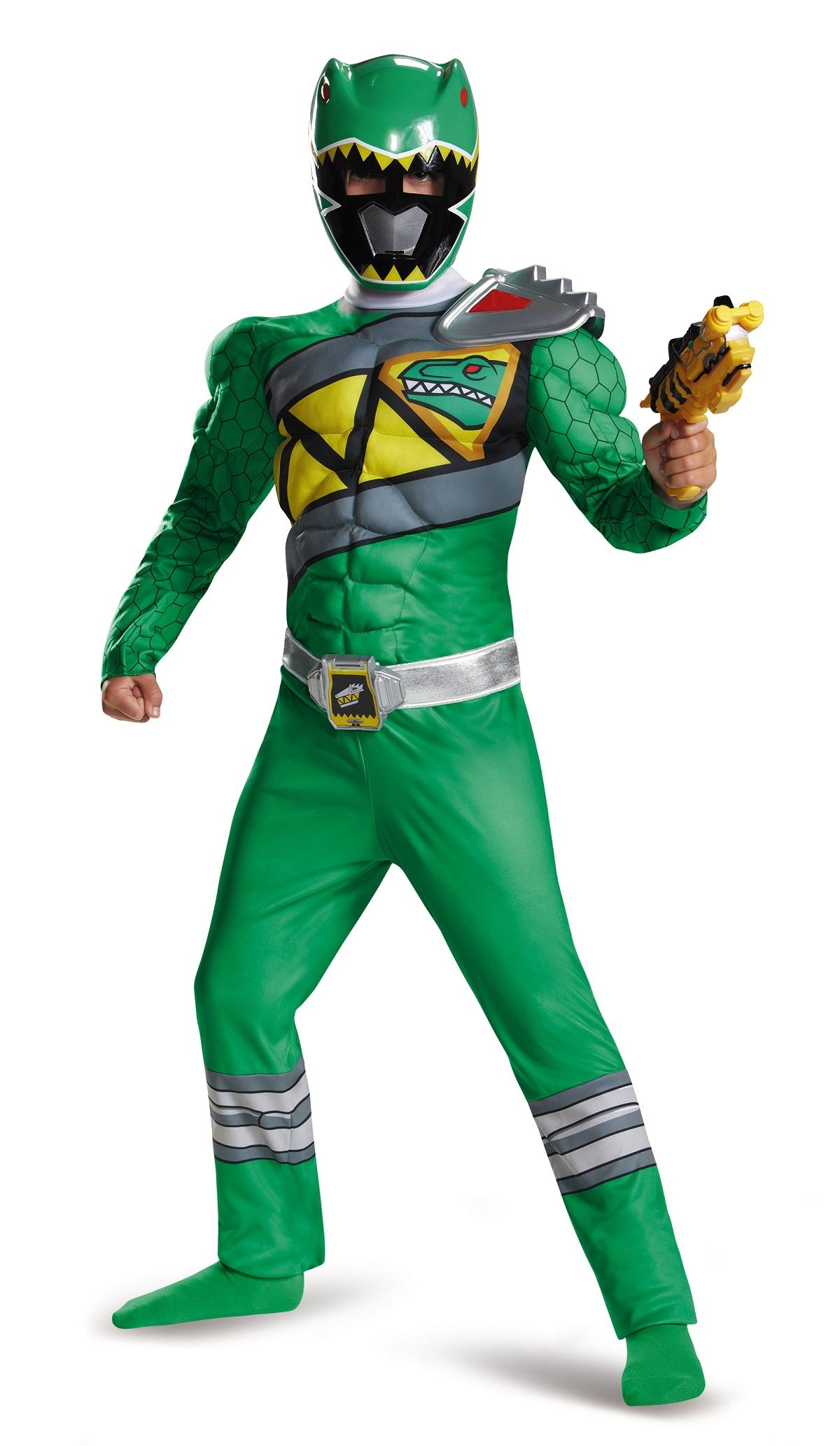 4. Dino Charge Blue Ranger
Also known as the Stegosaurus Power Ranger Blue, Koda is the Blue Ranger of the Dino Charge Rangers. Koda is a bit different from the rest of the team because as a matter of fact, Koda is a caveman. When he found the Blue Energem, he was able to outlive everyone from his time because the energme gave him the ability to resist aging which made him live up until the present time. He used to live in jungle caves along with his fellow Neanderthals. He was found by Kendall Morgan, a scientist, and Chase Randall in an ice glacier. Since Koda is a caveman, he is not a very smart man but his heart is truly kind, loyal and unbelievably strong. If your kid has the makings alike of Koda, he will enjoy this Blue Power Ranger Dino Charge Muscle Boys Halloween Costume.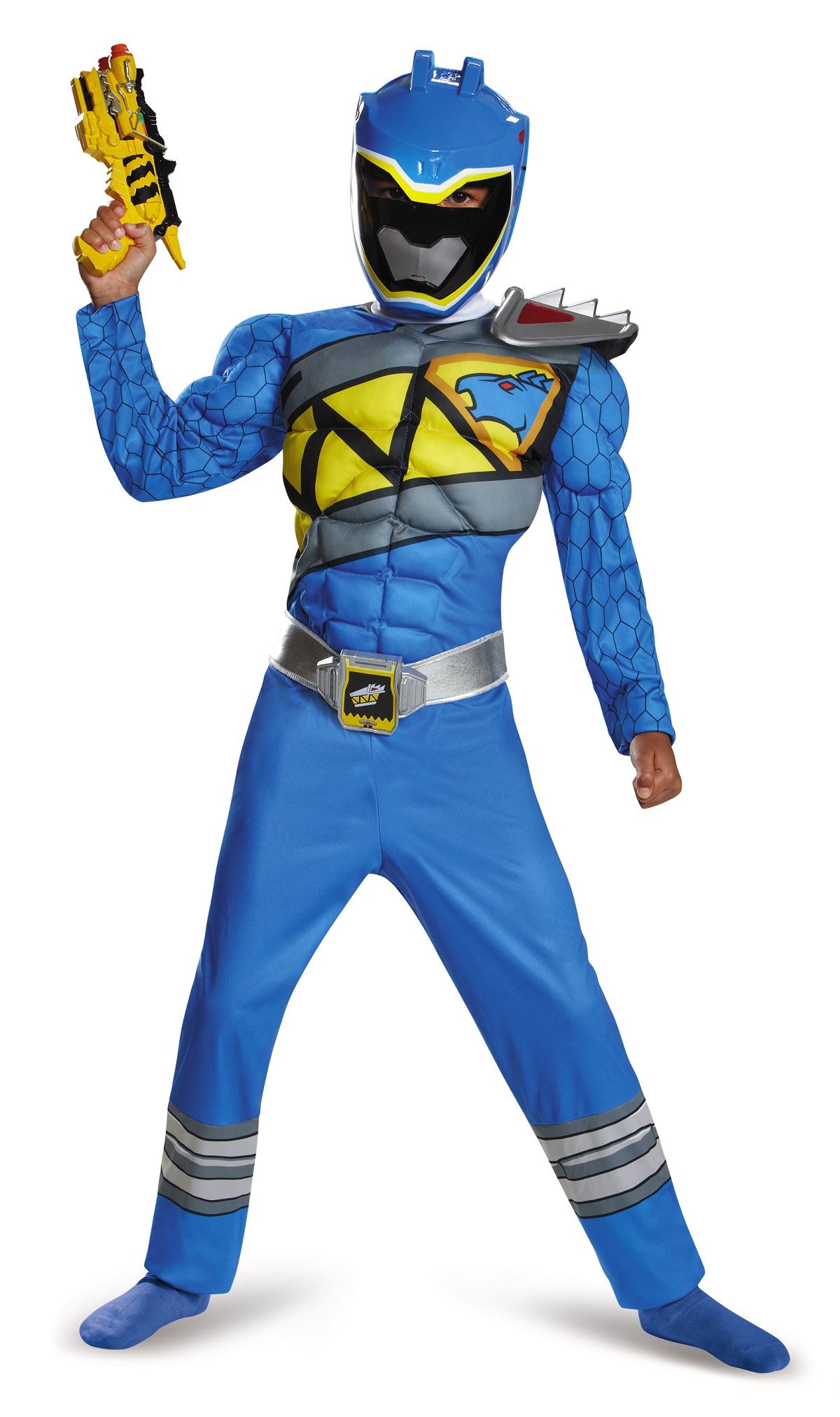 5. Dino Charge Pink Ranger
Shelby Watkins is also known as Triceratops Power Ranger Pink. She is the Pink Ranger of the Dino Charge Rangers and is probably the most serious of them all. Don't underestimate this girl because she's not here to be messing around. She is a waitress at the Dino Bite Cafe when she stowed away and accidentally found the Pink Energem. This girl is tough and is strong-willed which made her difficult for the boys. If you want to interest her, be sure to be talking about nothing but dinosaurs and being a Ranger. She may be stubborn but she takes her Ranger responsibilities very seriously. And since this isn't an "all guys" team, we have a costume for your Pink Ranger wanna-be's as well. Check out this Pink Power Ranger Dino Charge Girls Deluxe Halloween Costume. Your little girl can be just as powerful and strong as any guy evil-fighter out there and this is her chance to show it off.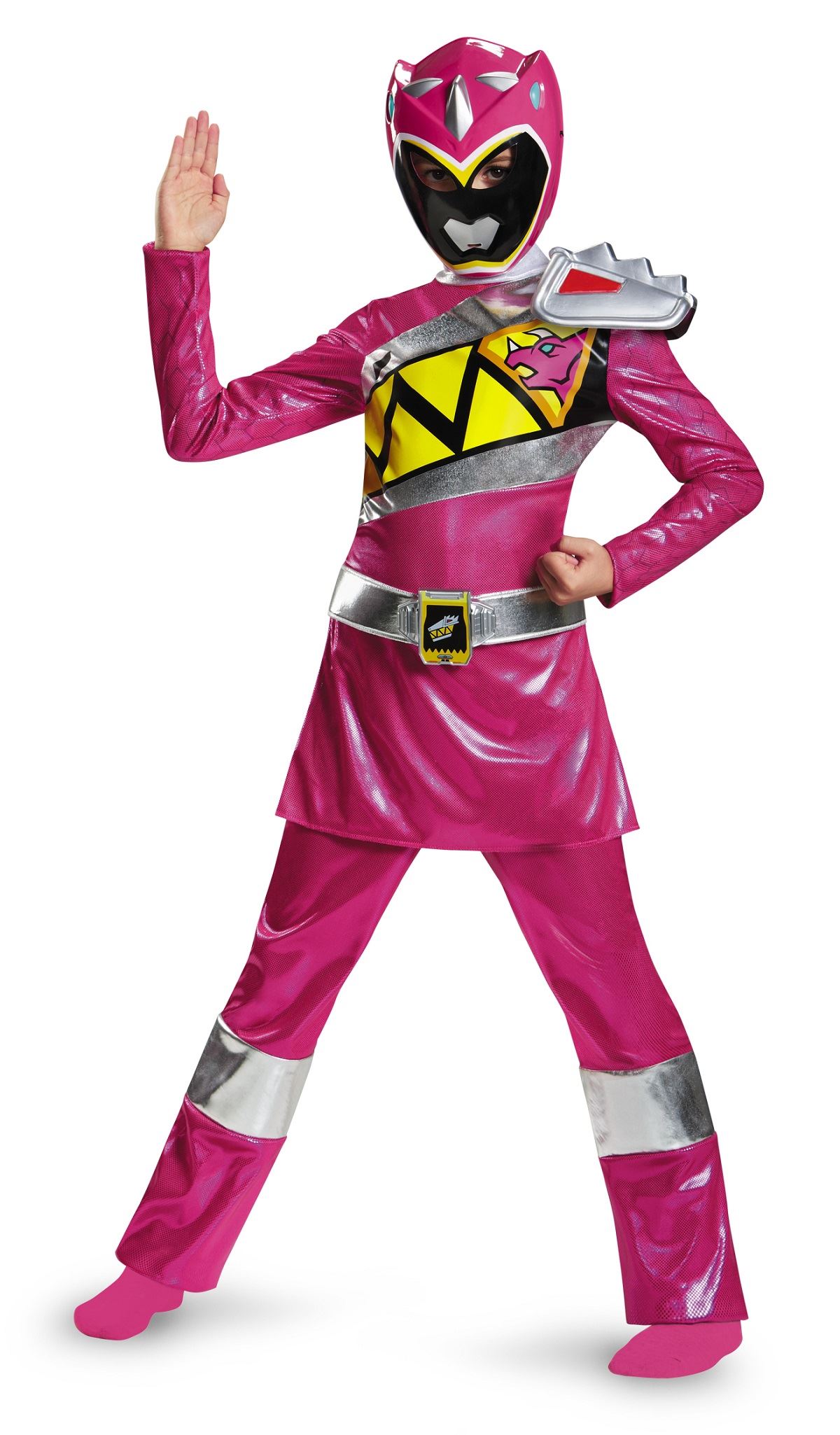 There's no doubt that all of these costumes are sitting here waiting for your kids to get them into action. So get one for your kids today! You can also find other Power Rangers Dino Charge costumes in our store along with more accessories like gloves and weapons. Let your kids' imagination soar and with the right costume, the fun never ceases. Visit our website for more featured costumes and as always, enjoy your shopping at The Costume Land where only the best are waiting for you!