Posted on June 18, 2016 by halloweencostumes
Be ye ready to sail the seven seas wit me 'n look fer treasures? Be brave, lad. The seas be filled with danger. It gunna only take a true courageous scurvy dog to succeed in scouring the seven seas.
Historically speaking, pirates are groups of people who sail the seas without a permanent residence. They have their own rules and levels in a hierarchy. They enter countries and do possibly the most horrible things: stealing, taking women and children, burning churches and many more alike activities. They are probably just like any other criminals except that they do their crime in the seas and occasionally, on land. Modern day pirates would usually loot other ships like cargo ships delivering goods internationally. They take whatever they can make use of such as food, valuable items, weapons and clothing. Although today's pirates are nothing like the pirates we know of who have a peg leg, hook for a hand and an eye patch, they still exist today. It could be because pirates were of romanticized in plays, books, and movies. Pirates are still criminals but they are depicted in a very admiring way by showing the adventures they take.
There is something about the idea of a group of men who are travelling the world one sea at a time. Although they are outlaws, there is something exciting about the life of adventure and freedom. You don't have to lie, you know. Everyone loves pirates. How could you not love pirates? They are the coolest people with the most fun and exciting lives. We live our lives in a routine wherein we go to school, then work, live to pay bills and take yearly vacations. Sounds quite ideal, yes? But to become a pirate is like to live life as a vacation every single day. Facing everyday danger and exploration is a thrilling way to live life but to do so while on a ship and sailing different parts of the world just takes it to a whole new level. So we can all admit, we love pirates.
Interesting Fact:

Did you know? There is a movement called the Church of the Flying Spaghetti Monster promoting a different and light take on religion. According to their teachings, they believe that pirates are "absolute divine beings". This is why if you get married under the Pastafarian religion, you have to be dressed as a pirate. Pastafarianism is a legally recognized religion in Poland, Netherlands and New Zealand. It was in New Zealand where the first Pastafarian wedding was legally recognized and registered.
You may or may not be attending a Pastafarian wedding but owning a pirate costumes is quite ideal. Whether it's for a costume party, an event you are attending or a play you are participating at, The Costume Land has some new, fresh and exciting pirate costumes in store for you. So why don't we check them out?
It takes extraordinary courage to be able to sail the seas everyday and face all sorts of danger. For a pretty badass job, you would also need a sick costume to be able to portray that badass character. Check out this Buccaneer Men Deluxe Pirate Halloween Costume which comes with a shirt, pants and waist sash. You should consider getting a parrot with this costume. It will look perfect!
Want a cute take on the pirate costume? We know how much you want a pirate costume for your little boys but keeping it adorable is one important factor. That is why we have this Pirate Boy Toddler Deluxe Halloween Costume which comes with a jumpsuit with gauze sleeves, gold trim, attached sash and belt, boot covers and printed hat with gold trim and attached head sash. This is a complete costume and a help of a few accessories will make this perfect!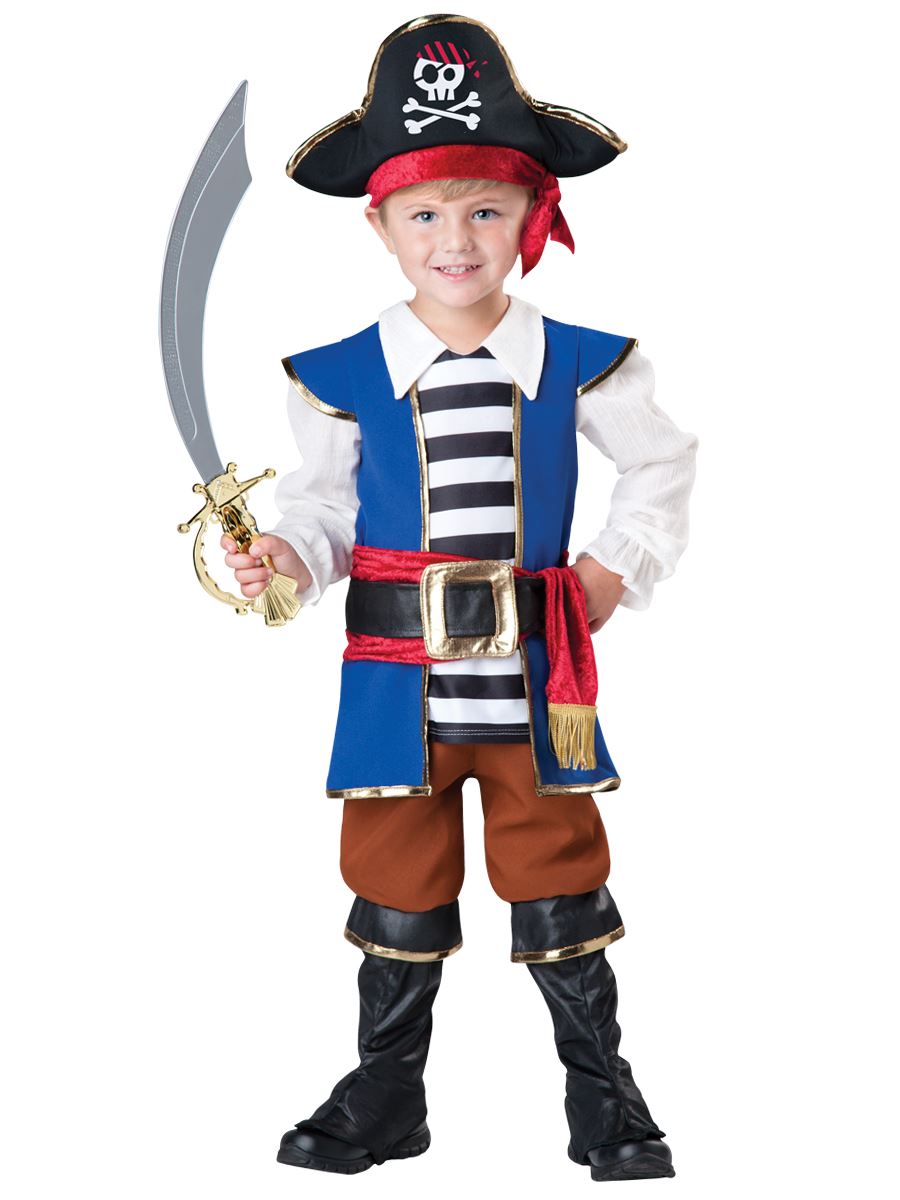 Now you may be wondering as we proceed to our next costume, are there any female pirates? We see women pirates in movies but do they exist in real life? In the old times, women had to dress and look like men to be able to get on board a pirate ship. Pirates have the belief that women are bad luck since they can have other men fighting over them. Female pirates are discriminated but we all know that any woman can do anything a man can. Be one of those who support women in piracy by getting yourself a pirate costume.
Ladies, have you captain say "Aye, aye." to this High Seas Pirate Captain Woman Halloween Costume which gives a sassy and sexy twist to a pirate costume for women. This costume includes a gold trimmed velvet coat dress with brocade bodice and button accents, lurex lace tiered skirt and matching lace ruffle pirate hat. Any woman in this pirate costume will leave steaming hot trails in the ocean.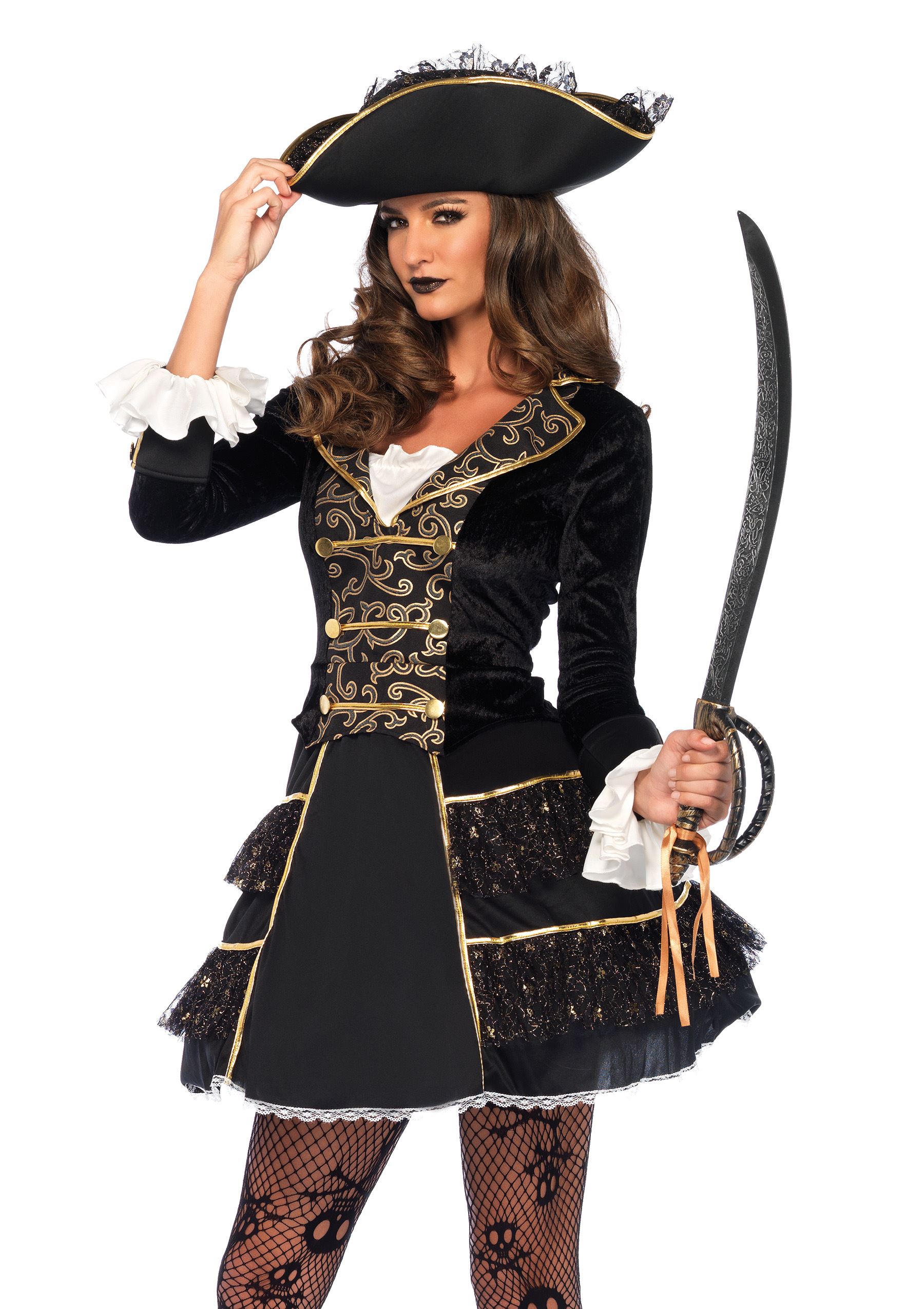 Who says you're too young to join piracy? If it's your passion, you should definitely go for it. Start your kids young with these amazing pirate costumes for teens and toddlers. Check out this Pirate Cutie Girls Tween Halloween Costume which comes with a dress with lace trim, skull hip wrap, bandana, netted leggings and glovelettes.

This Rogue Pirate Girls Halloween Costume for kids is an adorable pirate costume that comes with a dress with skull accents and matching skull and cross bone pirate hat.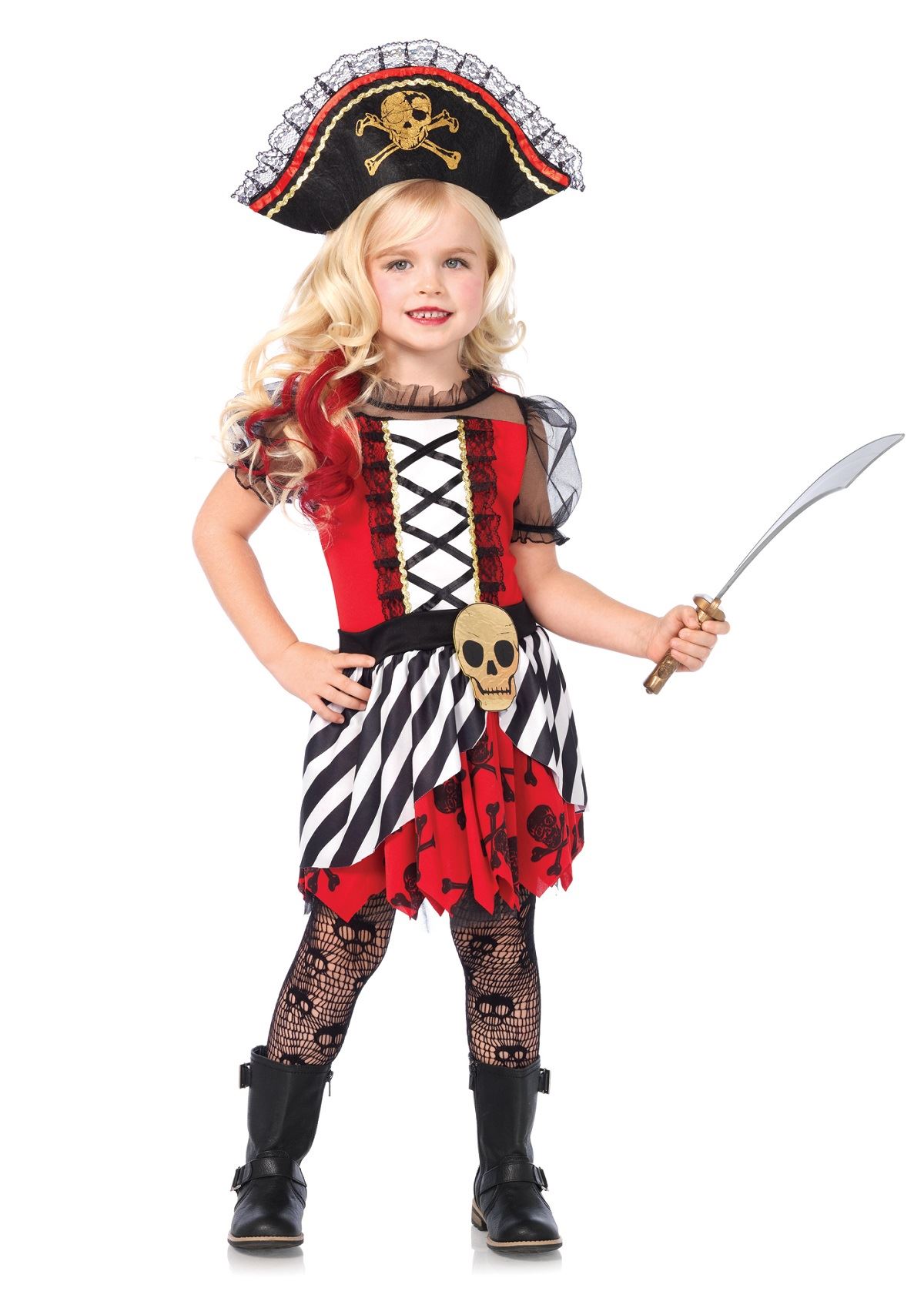 Now you have your costumes, it's finally time to accessorize. Your costume won't be complete without accessories. They are vital to make every costume stand out from others. So for the unfortunate men who just cannot grow a scruff or beard, we have the thing for you. You can get yourself one of these: Pirate Beard And Moustache or Pirate Moustache Beard And Goatee
Pick up your sword and get on board your ship. You are now ready to sail the seas in your pirate costume. There are so many things that costumes can do for us and it has helped so many of us fulfill our greatest fantasies. You can never have enough costumes. Always check out www.thecostumeland.com for more costumes. We have many other pirate costumes in store and we're sure that you can find the right one you need which suits your personality.
Enjoy shopping lads and lassies!