Posted on August 18, 2016 by halloweencostumes
Thirty years ago, Top Gun movie was released starring Tom Cruise as one of the main characters in the movie. It received a lot of praises from people for its amazing aerial sequences. Did you know that those aerial shots were actually real planes and they had to shoot everything thousands of feet above the ground? Yes, all that flying you saw in the movie was for real and they had to put the actors in the planes and shoot from the sky. Now that's serious production efforts right there. Which is not to wonder why the movie gained praises and became a huge hit. The Top Gun movie was actually based on a real flight school in the United States and to make the movie, they had to get the U.S. government to help them out. Even the script were submitted by the filmmakers for a very meticulous line editing to show the most positive light in the military. Of course, the government had to take advantage of it too since they did their part for to make the movie a success. What did they do? The navy used the movie as a tool to recruit which is actually a pretty clever move, for sure. Who wouldn't want to join the Navy when they just saw their favorite actors in an awesome jet fighting movie? Follow the trend, right? So booths were set up outside theaters to recruit anyone who came to see the movie to join the Navy. If you are wondering, yes, their strategy worked. The movie was a hit because it took everyone's breath away. Speaking of breath, this movie is exactly the reason why the song "Take My Breath Away" is so popular. It was the movie's soundtrack and in just weeks after the movie was released, it became number one on the Billboard charts. It had gone platinum four times and even sold millions of copies.
Top Gun movie is a big hit and it is still celebrated to this day for its success. Guess, there's just something about old movies that will never grow old in the hearts of those it had won. And to continue celebrating it, we are featuring some Top Gun costumes for you.
One of the most remembered things about the movie Top Gun was the romance between Maverick and Charlie which made sure that there was never a dull moment in the movie. The chemistry between the two of them definitely a show stopper. Maverick is an excellent pilot but seems to have some dangerous and reckless flying style. Although it was impressive for some, others find it annoying. You could say that Maverick is one cocky character but he's so good at it you can't hate him entirely. For Maverick fans, you can get yourself this Top Gun Men Flight Suit which comes with a flight jumpsuit with a zipper in front and also symbolic patch designs. It also includes the top gun sunglasses. Surely, this costume would make your "Charlie" want to be taken with you to the skies.
In movies like Top Gun, we usually only see men being pilots or even any service personnel. Which may make you think that these movies are kind of forgetting that women could be as much as any man is. Skills are not determined by gender so don't let yourself be taken out of the picture. Reach for the skies and be a Top Gun pilot yourself with this Top Gun Romper Halloween Costume. This costume comes in complete with a spandex romper with front zipper and symbolic Top Gun patch designs and it also comes with a body harness. Sexy but makes you ready to take it to a higher level.
We also have a version of the Top Gun costume for plus sized women because, hey, why not? Ladies, you can also get this Plus Flight Dress Women Top Gun Halloween Costume which comes with a flight dress with front zipper with interchangeable Maverick and Goose name badges.
It's said that it's hard to get kids interested in anything old. Old gadgets, old music and even old movies. Well, that's not entirely true. If you can make it interesting enough, you can even make your kids watch Top Gun movie and with your guidance, you can use it to educate your kids on being in service. Who knows? After seeing it, they might get interested in becoming a pilot as well. Make the experience more fun and realistic with these costumes. For your boys, get this Top Gun Boys Flight Suit which comes with a flight jumpsuit with Top Gun patches.
For the girls, we have this Flight Dress Girls Top Gun Halloween Costume which is a flight suit designed dress with Top Gun patched that has interchangeable name badges.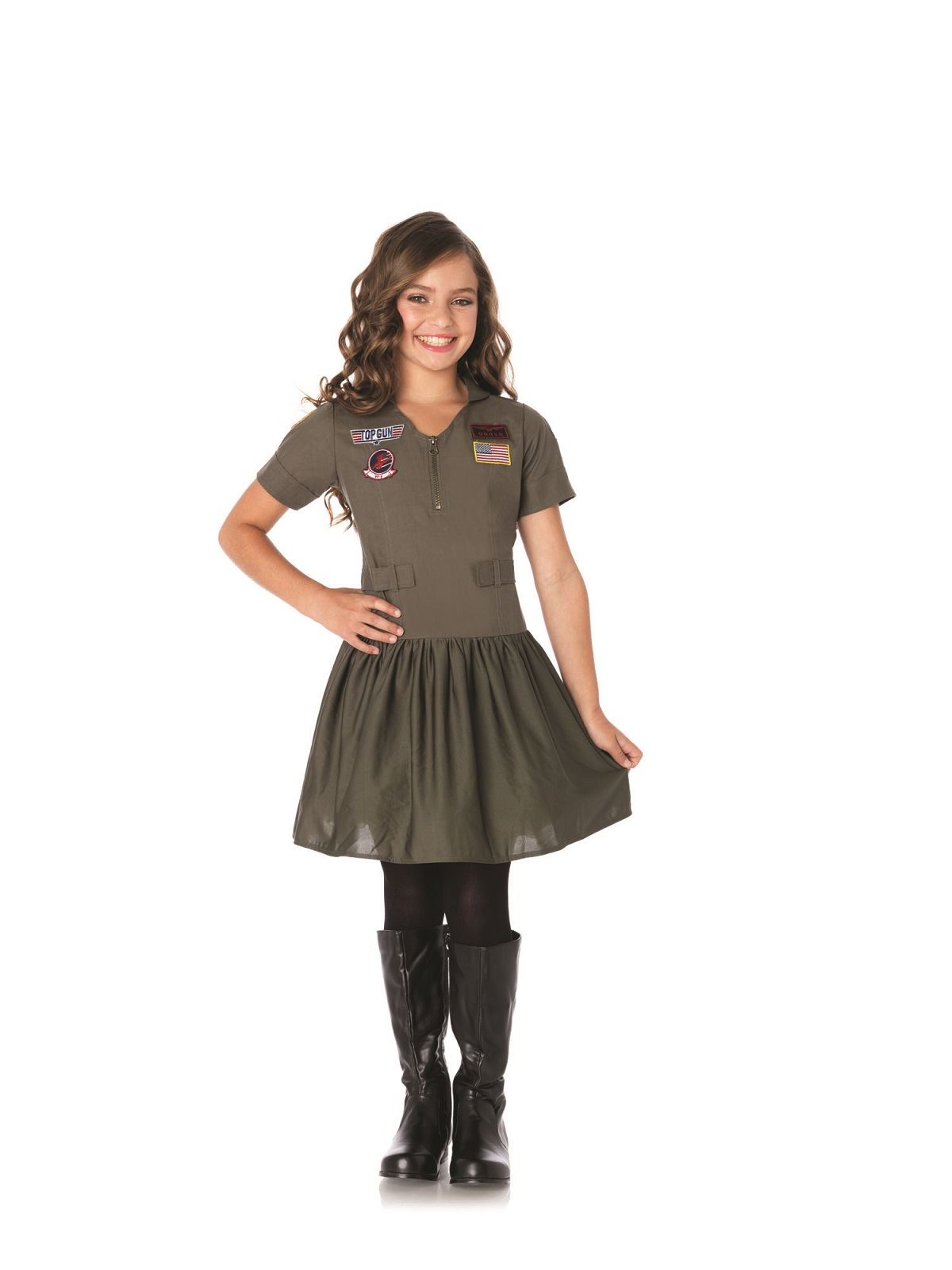 Top Gun, during its release, was the highest grossing film in the United States. Something as great as this deserves to be recalled and rewatched even after years. It was a great movie and those who were once fans would definitely say that they still are up until this day. Surely, Top Gun is only one of the old time movies that have captured our hearts and there are certainly more that we would love to bring back. So don't let the flame die out. Let's celebrate what deserves to be celebrated and for Top Gun's 30th year anniversary, why not get yourself some costumes to show that this once great movie is still loved today?
Shop at The Costume Land for more great costumes from your favorite movies. Whatever the event you need a costume for, we're sure that you can find what you need right here. Have a great time shopping everyone!