Posted on June 11, 2013 by halloweencostumes
X-men series of comics and movies revolve around a team of mutant superheros who fight against the villain group of mutants. They also try to use their powers to help humanity as they battle in an anti-mutant environment. Its unique storyline and the presence of notable characters such as Wolverine, Magneto, Storm and Rogue have made it a huge success today.
This success has led to many spin-offs including mutant costumes. In fact, these costumes are one of the most popular series available this year. So, if you are a fan of X-men, then it is party time for you.
The most popular X-Men character is Wolverine, so it is no surprise that most X-Men fans would love to wear a X-Men Wolverine costume. To meet the expectations of die-hard fans like you, the costume comes with a blue and yellow jumpsuit. It also has a muscle torso, arms, claws and an attached belt buckle with the letter 'X' written in the middle. A wolverine mask completes the look for you. This costume comes in many sizes to suit your body size and frame. Additionally, you can buy a men's claws to go well with your costume.
For the ladies, X-Men Mystique is one of the popular choices. You can transform to a sassy super woman with this blue and silver bodysuit, white tunic, skull belt and a pair of white gloves. It also comes with a bright red wing that is sure to make you look like the mysterious mutant who is out to spoil Magneto's plans. The nice aspect about this costume is that it is made of polyester and this makes it easy to wash and maintain. So, you can wear your favorite any number of times now without ever worrying about cleaning.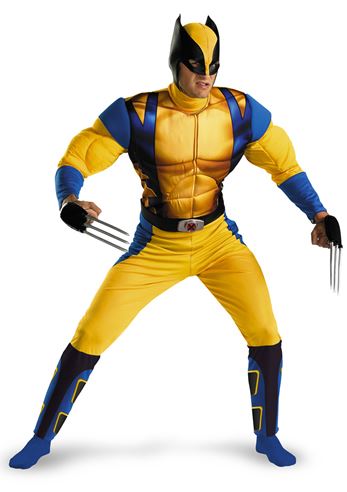 Besides men and women, tweens also get to wear their favorite mutant costumes. The X-Men Storm Costume is a popular choice among tweens because she is the one who comes to save the others with her power over the wind and sun. This costume has a black dress with short sleeves, a silver belt and collar, detachable emblem that shows the world who this mutant is and black leggings to go with the dress. A black cape, a black headpiece with a center silver circle and a pair of fingerless gloves complete the costume.
These are unique costumes that will give you a chance to emulate your favorite superhero, whenever you want. Why wait until Halloween to wear them? Get them today and flaunt your favorite mutant costume to the world.