Posted on March 06, 2014 by halloweencostumes
Everyone knows there could be tons of fun on St. Patrick's Day and no one wants to be missed out. With all the party and drinking going on, preparations should of course be done. Food are made, drinks are prepared, event places are being fixed and decorations put up but of course, dressing up for the event is a must too. Getting all fancy eh? Might be a bit of a pressure but no worries, we've got some ideas coming right up.
Going green. That's what everyone does that even the bagels are green. You of course, shouldn't miss out on this. Don't forget the famous leprechaun costume that you can always get away with. You would certainly achieve that fabulous look while telling others that you are one lucky lassie. You can then add style to your hair and you'd be good to go. But if you want to go on something out of the mainstream, you can try on a cute dress but you'd just be too fabulous in it that you'd look like a lucky charm people would want to be around you.
So okay, you're tired of all that lucky look and want to be in something that says, "Hey! I know you want me." then perhaps this beer girl attire would suit you. I bet when you're in it, men would want to be around and say, "Pointa beoir, le do thoil." (A pint of beer, please.) But with all the choices you have and you get all confused that you want to settle for something quick and simple, why not just wear the flag of Ireland instead?
Gentlemen, do not fret for we've got ideas in store for you too. Still, the leprechaun costume never goes old, fancy and funny as ever. There's one for your little boys too if they want to join the fun. And if ever you're the comic type of guy then you'd sure stand out with this lucky cereal box costume. Be careful though, people might want to put you in their shopping carts.
This costume has been worn so many times and has been a long running tradition. But let's say you want to look more of fancy than funny in it, then maybe you can try this Leprechaun Deluxe costume. If you ask me, I think it looks absolutely wonderful and this exquisite suit will get the ladies to swarm around you saying, "Kiss me kind Sir, I'm Irish."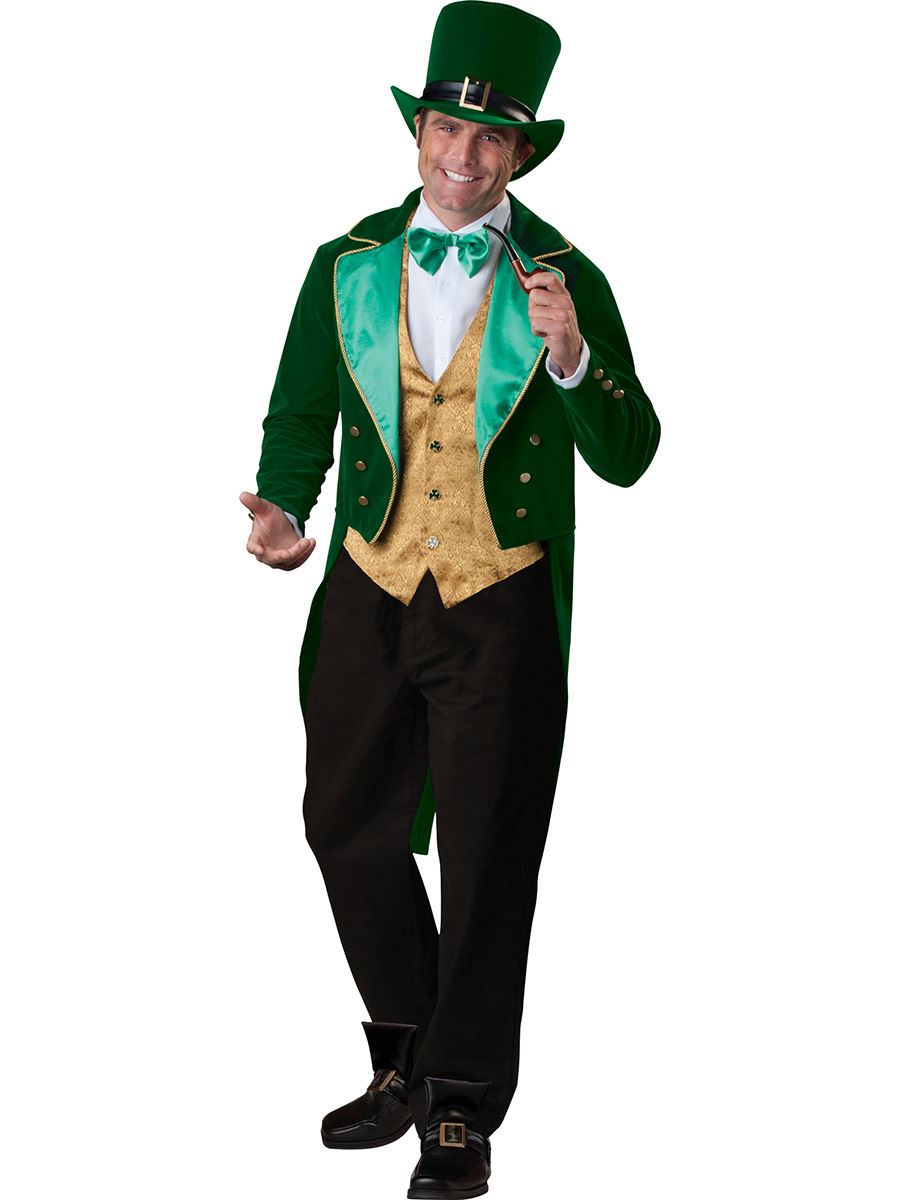 The leprechaun was considered to bring good luck that is why wearing it as a costume has been a long running tradition. So maybe, it would bring you good fortune as you hoist up your pint of beer. But in whatever way you plan to celebrate the St. Patrick's day, just always remember to enjoy every moment of it. Spend it with family or with friends, wherever part of the world you are in, don't miss out on all the energy and excitement. Let's all celebrate St. Patrick's Day together. Sláinte!